This case study details the process behind a selection of advert designs for Liffey Mills, one of Ireland's leading grain and agricultural merchants. With over 70 years' experience their business is closely integrated with the farming community across Ireland. With a team of agronomists, nutritionists and feed specialists with both academic and practical expertise their aim is to deliver superior quality products that maximise profit for their customers. Liffey Mills is also a major retailer of fertiliser, seeds, agrochemicals and hardware.
At Graphic Index, we have designed multiple advertisements for Liffey Mills. It is important to us and to the client that the advert design is relevant and current, so that we catch the attention of as many potential customers as possible. For each of these adverts, we have looked at current events (sporting, political, etc.) and built the adverts around these ideas.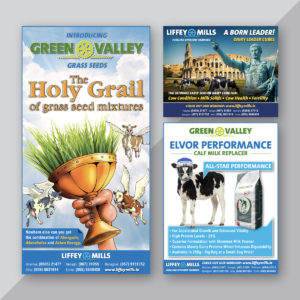 There is often an element of humour involved in the advert design, which is a joint effort between us and the client. When we have reached an idea or a theme, it is up to us create an image that fits the humour and conveys the message effectively. We also frequently design ads with a more business-like tone when it is required.
The advert design for Liffey Mills is always well received by the client and their customers.
---
Graphic Index is a graphic design consultancy dedicated to crafting successful brands.
Our core focus is partnership and results. We strive to understand the story of your business and your goals so we can develop a strategy and a visual identity that positions you for success. We create the look and feel for businesses, organizations and product lines.
For more information on our previous work, please visit our portfolio where you can view various case studies from various different types of clients.