Templetuohy Farm Machinery (TFM) has become Ireland's leading supplier of John Deere farm machinery and equipment with branches in Templetuohy, Clonmel, Portlaoise, Enniscorthy, Kilkenny and Tuam. Their goal is to achieve growth by continuing to change and diversify through superior customer service, outstanding quality, innovation and specialisation.
Graphic Index worked with Templetuohy Farm Machinery in designing promotional material that included invitations, brochures, newspaper advertising and pull-up stands for "Experience the Technology", an event in The Hub, Kilkenny to showcase new technology and farm machinery. We discussed what was needed with the client, and clearly set out our goals and time frame for the project.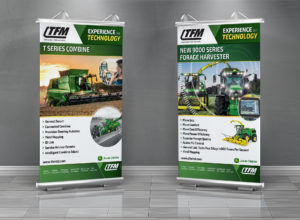 The aim was to create graphics that would raise the profile of the Templetuohy Farm Machinery brand, while complementing the John Deere and Lemken brands. Farmers and agricultural professionals from around Ireland would be attending the event, so we needed the material to speak to them in particular. Our experience in dealing with the agricultural sector over many years helped to inform our design and communication decisions throughout the project.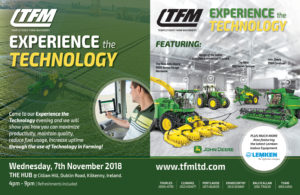 We set to work on designing these materials, keeping the client informed and engaged throughout the process. Effective communication between designer and client is key to achieving excellent results. We organised the production of all printed and exhibition material. Our network of printing and exhibition professionals ensures top quality material that meet deadlines.
---
Graphic Index is a graphic design consultancy dedicated to crafting successful brands.
Our core focus is partnership and results. We strive to understand the story of your business and your goals so we can develop a strategy and a visual identity that positions you for success. We create the look and feel for businesses, organisations and product lines.
For more information on our previous work, please visit our portfolio where you can view more examples of our work for various different types of clients.